Bath Bomb Mold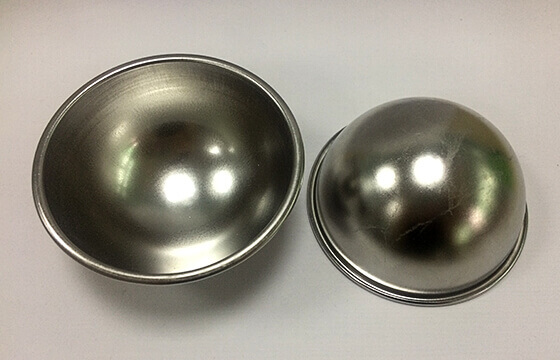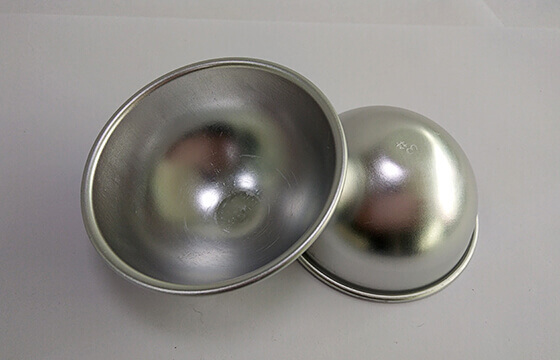 Stainless Steel Bath Bomb MOlds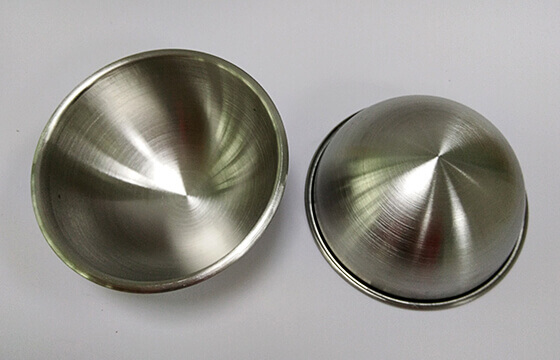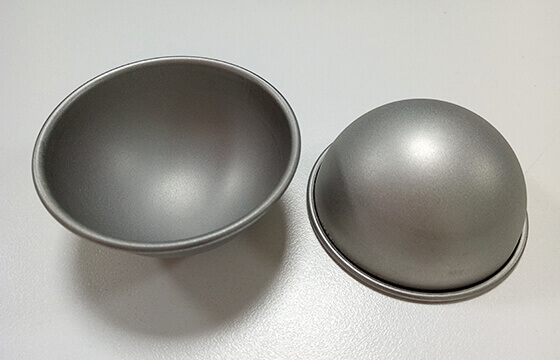 Sandblasting Bath Bomb Molds
Description
A bath bomb, or bath snowball, is a hard packed ball which effervesces when placed in water. They are used to add scent and color to bath water. Bath bombs can be used for therapeutic purposes because they contain oils, butters, and sea salts which impart various benefits. Bath fizzies (which is the loose powder used to create bath bombs) and bath bombs can serve as inexpensive gifts for folks who need to be pampered and are fun to make. Our bath bomb molds make it easy to turn out accurately sized finished products. Get creative with your bath bomb recipe and add herbs, botanicals, oils, butters, and dead sea salts to pamper the skin! Add bath bombs to your line of soaps and candles for matching scents and colors.
Specification
| | |
| --- | --- |
| Material | Stainless Steel, Aluminum |
| Surface | Polishing, Satin, Sandblasting |
| Diameter | 45mm, 55mm, 65mm, 75mm, 85mm |
| Weight(Pair) | 0.025kg, 0.034kg, 0.044kg, 0.050kg, 0.061kg |
| Thickness | 0.4mm, 0.5mm |
How to make bath bombs with bath bomb molds:
1. Gather your supplies.
· Dry ingredients: 8 oz. baking soda, 4 oz. citric acid, 4 oz. corn starch, 4 oz. epsom salts
· Liquid: 1 tsp. plant oil, ¾ tsp. water, 2 tsp. essential oil, food coloring
· Tools: Bath bomb molds, a whisk, a spoon, bowls, cups
2. Combine dry ingredients.
· Dump all of dry ingredients into the bowl.
· Stir them all evenly with the whisk.
3. Combine the liquid.
· Place all of liquid into a cup and stir until well mixed.
Note: Be careful, too much water will ruin your bath bomb!
4. Mix liquid and dry ingredients together.
· Slowly add small amounts of the liquid to dry ingredients while whisking.
· Repeat this step until all the liquid emptied.
· The mixture should begin to clump together when you squish it.
5. Pack mixture into molds.
· Grab your molds and pack tightly the mixture into the first half of the mold.
· Then do the same with the second half.
6. Press the two sides together.
· Squeeze the molds together to create your sphere.
· You can add some rose petals or lavenders on top of the second half.
7. Compact the mixture into mold.
· Press firmly to prevent bath bomb cracking.
· Remove any excess mixture around the mold.
Note: Be careful, rotate the mold will not help to remove the bath bomb!
8. Tap slightly around the mold.
· Use your finger to tap slightly around the molds.
9. Gently remove the bath bomb.
· Carefully remove the bath bomb from the mold.
10. Let bath bomb dry.
· Place them on wax paper on top of a fluffy towel.
· Let the bath bombs dry for at least one day before you use them!